---
Digital flowmeter K24, AdBlue®
The K24 meter, due to its size, is very often installed in tanks just behind the filling gun. However, there is no obstacle to installing it in the distribution system of the tanks - as long as we have the components that make it possible to install it this way.
Digital flowmeter ModiFlow COMPACT
The ModiFlow COMPACT digital meter is equipped with an LCD liquid crystal display mounted on top of the flow meter. Thanks to the use of a pendulum rotor. It enables accurate measurement and provides simple and convenient operation. It can be widely used in petroleum, chemical, urea, pharmaceutical, as well as transportation and food industries.
---
Pulser flowmeter
Parameters: 1" connection, used in tanks equipped with the multi-access system MC Cube, PIU,SI, used in tanks equipped with the modern Watchman Access panel, max. working pressure 30 bar, measurement repeatability 0.2; accuracy +/- 0.5%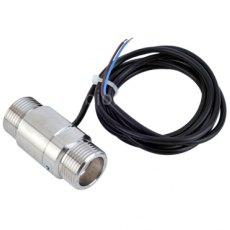 Pulser flowmeter AdBlue®
We faced the challenge of designing such tanks, in which modern panels will be installed to enable fuel management, and the flow meters will be used to count pulses and transmit them to a single place, where consumption will be presented. In our offer you will find pulse flow meters, which are extremely accurate in transmitting data from the flow in both diesel tanks and the increasingly popular AdBlue® tanks.