Featured Products
Mobile tank 300l., 12V
DESO mobile tank with a capacity of 200 litres is an excellent solution for diesel transportation and refuelling machines at their place of work. Compact dimensions and properly selected high quality equipment gives great comfort and ergonomics of use supported by the guarantee of the largest manufacturer in Europe.
€616.37
ex VAT
(€758.14
inc VAT)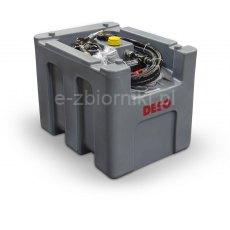 Mobile tank 60l. for diesel
Innovative solutions that we offer with the handy TrolleyMaster® mobile tank put the user's comfort and convenience in the first place. Solid rubber wheels with a diameter of 25 cm easily overcome unpaved and uneven terrain, a lockable ball valve prevents leakage of substances during transport, and a special pocket for the automatic pistol catches condensate and protects it during transport...
€509.18
ex VAT
(€626.29
inc VAT)
€727.40
ex VAT
(€894.70
inc VAT)
---
---
---
---
---
---
---
---
---
---
---
---
---
---
---
---
---
---
---
---
---
---
---
---